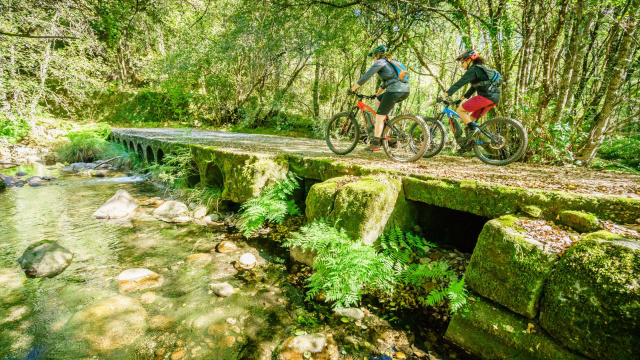 ROUTE 07 MTB CENTER LOBIOS CIRCLE
It is a route that poses a challenge for the cyclist due to the continuous ups and downs, but which is compensated by the attractiveness of the surroundings.
Desde la zona de aparcamiento que se ubica en la entrada al municipio de Lobios nos dirigimos hacia las pozas de agua próximas a la aldea de A Cela. Se trata de un recorrido que supone un desafío para el ciclista por las continuas subidas y bajadas pero que se compensa por lo atractivo del entorno. Atraviesa pequeños núcleos como Gustomeao, San Paio, O Puxedo y A Vila, permitiendo descubrir lugares con gran encanto como Chao de Requeixo, un paraje de gran valor natural, o la iglesia de San Miguel y la capilla de la Virxe da Reguenga, muestras de la arquitectura religiosa de la zona.

A mitad de recorrido nos encontramos con un desvío que nos lleva hacia el río Mao (afluente del río Salas), donde podremos visitar varias de las pozas naturales que se ubican formando pequeñas cascadas y disfrutar de un lugar privilegiado. Existe la posibilidad de continuar ascendiendo por la carretera hasta llegar a la aldea de A Cela y continuar por la Ruta 2 "Travesía do Xurés" que permitiría finalizar este recorrido en la Rectoral de San Pedro en Muíños. Si se opta por regresar a la ruta "Circular de Lobios", afrontaremos la segunda mitad del itinerario con una pendiente más favorable con la compañía del río Cabaleiro que cruzaremos a través de un pequeño puente en A Portaxe antes de regresar al centro de Lobios.