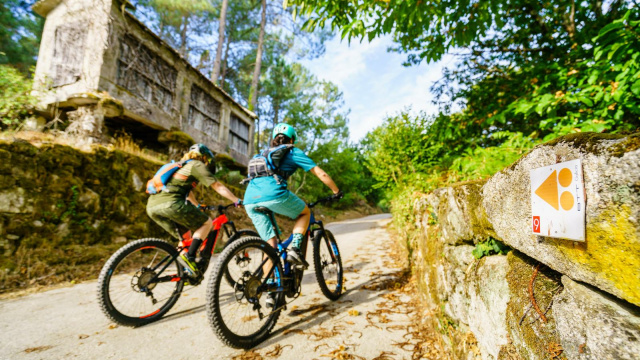 Day 1 MTB CENTER from Lobios to O Corgo
38 kilometers until we reach our final destination at the As Conchas Reservoir, in Muiños.
Arrancamos el día en el espacio bikefriendly del Balneario Lobios Caldaria, especialmente pensado para los amantes del ciclismo. Un hotel que también ofrece parking de bicicletas, una zona de taller y lavado e incluso una zona de recarga para los usuarios que viajen con bicicletas eléctricas.
Hoy nos esperan 38 kilómetros hasta llegar a nuestro destino final en el Embalse de As Conchas, en el Concello de Muíños. Con la ayuda del mapa general del Centro BTT y de los tracks descargados en nuestro GPS, abandonamos Riocaldo para dirigirnos hacia Bubaces por la ruta número 9, donde empezamos a ganar altura en dirección al Alto de Santa Eufemia.
Mientras avanzamos por una pista forestal en perfecto estado, vamos disfrutando de una gran panorámica de la SIerra de O Xurés y de los montes vecinos de Portugal; incluso desde aquí llegamos a adivinar la ubicación de Portela do Home, paso fronterizo con el país vecino.
Una vez superado este promontorio, iniciamos un largo descenso hasta conectar con la ruta 6 "Vía Nova", que nos conduce de vuelta a Riocaldo, para continuar luego hacia los molinos de Vilameá y proseguir la ruta hacia Lobios. Es momento de recuperar fuerzas ya que hemos acumulado bastantes metros de desnivel en la primera parte del día y aún nos queda un buen tramo de subida hacia Ganceiros.
En su centro urbano hay varias opciones para tomar un café y comer algo antes de proseguir nuestra travesía.El Camino Natural Vía Nova, que comparte trazado con la ruta 6 "Vía Nova", nos conduce hasta la aldea de Reparade y, desde allí, continuamos nuestra etapa hasta alcanzar la Capilla de A Clamadoira. Desde esta capilla disfrutamos de una bonita panorámica del Embalse de As Conchas.
Llega el momento que llevábamos esperando todo el día: la bajada final hacia la Rectoral de San Pedro; un sendero estrecho y técnico muy divertido que desemboca en la carretera y que nos permite recorrer fácilmente los últimos kilómetros hasta llegar a O Corgo. En este pueblo nos espera un transfer que nos lleva hasta As Maus de Salas para pasar la noche.