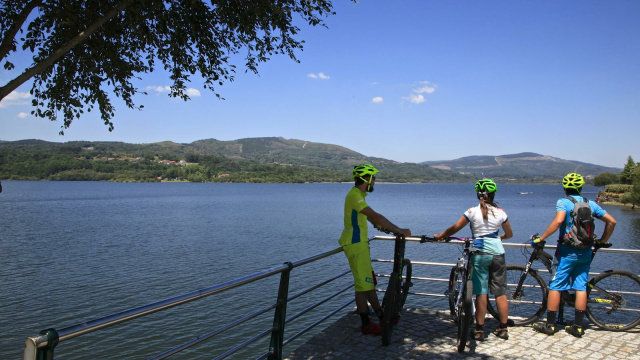 ROUTE 01 MTB CENTER OUTEIRO DA CELA FOREST PARK
The Outeiro da Cela Forest Park is part of the O Corgo tourist-sports complex.
El Parque Forestal de Outeiro da Cela forma parte del Complejo turístico-deportivo de O Corgo, donde se ubica uno de los Puntos de Acogida del Centro BTT Serra do Xurés. Un área recreativa natural de casi 40 hectáreas con una ruta muy sencilla, sin apenas desnivel acumulado, y que, a lo largo de sus casi 6 kilómetros de recorrido, permite acercarse a la orilla del embalse de As Conchas y conocer la aldea de O Rañadoiro.

Se recomienda subir al punto más alto de O Noval, una pequeña colina muy cercana al lugar de inicio de esta ruta a la que se accede por varias pistas señalizadas. Desde aquí, se puede disfrutar de una bella panorámica del embalse y de los restos arqueológicos del campamento militar romano Aquis Querquennis, en el vecino municipio de Bande.

El complejo de O Corgo cuenta con un camping y una amplia oferta de ocio para disfrutar de este entorno privilegiado. Destacan las actividades náuticas como el kayak y la vela, así como la posibilidad de participar en rutas de senderismo organizadas o practicar escalada en su rocódromo al aire libre.

Desde el propio aparcamiento del Punto de Acogida, se pueden recorrer en bicicleta los dos kilómetros que lo separan de la Rectoral de San Pedro, actualmente alojamiento de la red de Turismo Rural, desde donde parte la Ruta 2 "Travesía do Xurés".