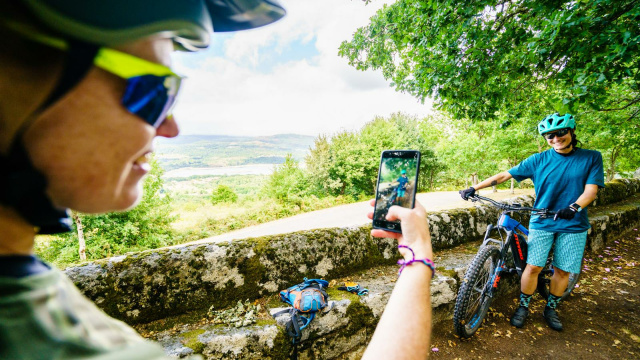 ROUTE 02 MTB CENTER TRAVESÍA DO XURÉS
The route starts from the old rectory of San Pedro in Muíños, today converted into Rural Tourism accommodation.
La ruta parte de la antigua rectoral de San Pedro en Muíños, hoy reconvertida en alojamiento de Turismo Rural. De forma ascendente, nos conduce a la población de O Agrelo, que cruzaremos para llegar a Picós, a través de una zona de bosque autóctono bien conservada. Siguiendo la señalización de la senda PR-G Torrente-Salgueiro, perteneciente a la red de rutas del Parque, alcanzamos la ermita de A Clamadoira, desde donde se puede contemplar una bella panorámica sobre el valle del río Limia. La pequeña iglesia del siglo XVIII se encuentra rodeada por unos magníficos robles centenarios.

La siguiente parada obligatoria será la aldea de Prado de Limia, donde podremos disfrutar de la típica arquitectura popular de O Xurés, así como de la iglesia de San Salvador y de un horno comunal rehabilitado.

Cruzamos el río Salas por un puente de piedra hasta alcanzar un área recreativa con varios molinos, algunos todavía en funcionamiento. Por una pista en buen estado ascendemos en dirección a Albite, una pequeña aldea ganadera. Tras una subida y un descenso muy técnicos, llegamos a la parroquia de A Cela, donde sus casas y cuadras se funden con los grandes bolos graníticos conformando una arquitectura singular. Aguas abajo de A Cela, se encuentra la espectacular cascada de A Poza da Seima. Cruzamos el río Salas por un puente de madera para iniciar un exigente porteo con nuestra bicicleta de unos 15 minutos de duración hasta alcanzar la pista de tierra que va hacia Reparade, donde enlazamos con la Ruta 6 "Vía Nova", que viene desde Lobios. Abandonando Reparade, el sendero nos conduce de nuevo y de forma ascendente hacia la ermita de A Clamadoira. El regreso hacia la rectoral de San Pedro es a través de un sendero estrecho que finaliza en la carretera de Mugueimes, a escasos metros del final de este recorrido.