Terras de Celanova e Serra do Xurés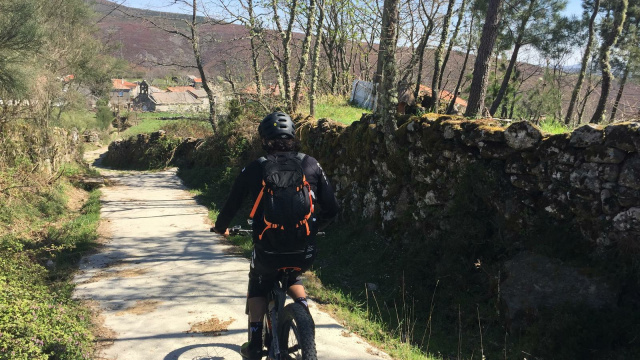 ROUTE 11 MTB CENTER CASA DA MOURA
Route between stone-walled properties and frozen villages in the past.
Recorrido entre murado con parcelas donde antaño se cultivaba y núcleos rurales congelados en el pasado serán imágenes que guardara el visitante después de recorrer caminos empedrados por la historia de A Terra Cha. Ruta con varios puntos de interés diferenciados. Al mirador de O Pedreiriño, el primero de ellos, accedemos después de un pequeño porteo. Es un área de recreo elevada entre rocas y pinares, cuenta con una privilegiada posición en el entorno de la sierra de O Laboreiro.

Las vistas abarcan gran parte de la comarca con el río Limia en la zona del embalse de Lindoso y la espectacular sierra de O Xurés. Esta muestra una completa vista panorámica de sus cumbres graníticas y frecuentemente cubiertas de nieve en invierno.

El mirador está acompañado por la fuente de O Pedreiriño y por una imagen de San Rosendo esculpida en granito sobre una roca, obra del escultor Xosé Cid.
Desde aquí continuando la ruta dejamos la carretera justo en el lugar donde se encuentra la Ermita Santo Cristo de Lumiar. Aquí se abandona una carretera secundaria para volver a la tierra que nos conduce hacia los núcleos de Venceáns y Queguas. Desde este último y en los próximos 10km no se visitarán más núcleos exceptuando As Cortes da Carballeira. Un claro ejemplo de la riqueza de la arquitectura popular gallega. Restos de antiguas construcciones donde únicamente conviven la piedra, la madera y la teja. En este pueblo se encuentra A Ermita da Ascensión y un espectacular Roble de grandes dimensiones.

Queda alcanzar desde aquí el punto mas septentrional de la ruta justo donde se encuentra a Cova da Moura. Un monumento megalítico reflejo de un antiguo pasado.
Desde aquí la ruta comienza un suave descenso en dirección sur, rodeado de amplias áreas de monte bajo, hasta encontrarse con la ruta 10 y 12 cerca de Entrimo donde finalizará este recorrido.